I really started to hate lead generation, the term, about a year ago.  You see, my phone rang off the hook – sometimes 10 calls a day, because this website was ranked #1 or #2 (jumping around in those top spots) for the search term Lead Generation.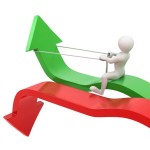 That would be good news, except that the people that were calling me day and night all seemed to want to buy a list of hot leads ready to buy their stuff from them.
We were selling services to help people generate their own exclusive leads on a steady basis – we were NOT selling lists.
Consequently, I got so tired of these calls that I took down some of the search optimization and after we fell off the 1st page life got easier and I was able to focus on a smaller number of people that were serious about growing their business strategically, and not just in buying a list and cold calling.
But alas, I do kind of miss the notoriety of being at the top for such a great term.  So slowly, and methodically, we will start writing about lead generation again and hopefully this time we can make our message clearer that we work with people that want to invest in developing their own lead generation campaigns.  It is wonderful to work with people that get it.
If you are interested in our lead generation services, please fill out this form and we will contact you.