See below for our blueprint and a description of each item in our service as listed on  pricing page.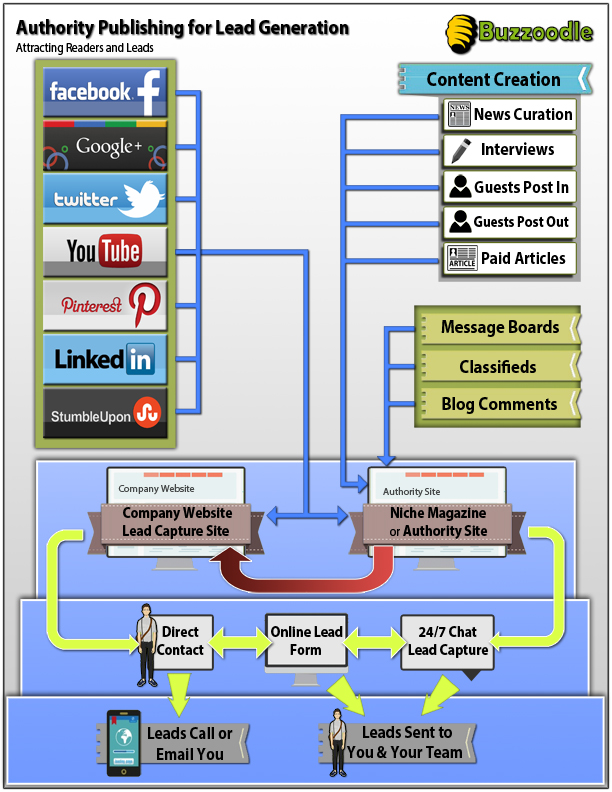 The following services are included in some or all pricing packages – view pricing packages for details.
Premium News Magazine Theme
Our premium WordPress magazine themes are supported by industry leading theme designers and built to be a professional online magazine that is adaptive and SEO optimized.
Set Up and Hosting
Our team researches and purchases domain names, sets up the magazine on premium hosting (Rackspace) and installs and configures the new news magazine, all included in the first month of service.
Dedicated Editor Avatar
Editor Avatars are the profile of an editor that will be used as the primary publishing account in the magazine as well as all social channels of your social media.
Site Exclusivity
Shared sites can have up to 10 non-competing sponsors for the site.  Exclusive sites have only one sponsor that gets 100% of sponsor visibility and leads.
Curated News Articles
Weekly your editor will find articles published by others and use them to publish a news or special interest article referencing the original article.  Number of articles depends on plan.
Featured Articles
Your editor will work with freelance writers to commission great unique articles that will be interesting to the target market of the publication.  Number of articles depends on plan.
Graphics for Articles
Your editor will include graphics for all articles to make the content more compelling and professional.
Interviews
If you are a sponsor of the site, you may do an interview and send it to us at any time for posting in the interview section.  Great to promote yourself or promote clients and partners.
Guest Posts Inbound
Your editor will solicit unique, high quality guest posts from writers that wish to get exposure on your site.  Only high value guest posts that do not promote a competing product or service will be considered.
Guest Posts Outbound
For some plans, your editor will contact other high traffic sites and offer to write an article in exchange for links promoting the magazine.  Over time this can yield high quality visitors to your company.
Video Channel
Videos are posted on the YouTube channel as well as on site to improve YouTube traffic and visibility.
Twitter Promotion
Your editor will post new magazine articles to their growing follower list as well as occasionally promoting other things, including your site.
FaceBook Promotion
Your editor will post promote magazin  articles to their Facebook friends and groups as well as occasionally promoting your main site.
Google Plus Promotion
Your editor will post new magazine articles to their Google Plus account as well as occasionally promoting other things, such as your site.
LinkedIn Promotion
Your editor will post new magazine articles to their status in LinkedIn as well as occasionally promoting articles and your site in the groups they belong to.
Stumble Upon Promotion
Your editor will stumble new magazine articles to generate more traffic to the site, as well as other related sites and your company site.
Pinterest Promotion
Your editor will pin images to Pinterest that link back to the magazine articles.  They will also pin other things and build up a following on Pinterest.
Blog Comment Promotion
Your editor will identify blogs will good traffic, active commenting and attractive to your target market and participate on the blogs with links back to the magazine site.
Classifieds Promotion
Your editor will classified sites to attract writers and readers to the site.
Message Board Promotion
Your editor will participate in a message board where your target market goes to attract readers to the magazine site and to get ideas for articles.
Direct Leads
Your contact information for direct clicks, email and phone calls can be integrated into your ads run throughout the site.  Direct lead generation via this source is free and not tracked by Buzzoodle.
Pop Up Lead Capture
Button lead capture pop up ad is available for Authority Magazine sites where the publication has premium sponsors.  Leads are emailed to client and there is no charge for this type of lead generation.
24/7 Chat Engagement & Lead Capture
This is an add on feature available for some plans.  It requires a 6 month minimum commitment. Your main site as well as the magazine site use live chat software and a collage educated engagement specialist will engage visitors and help them as well as collect name and contact information.  This is passed to the sponsor as a lead.  There is an additional "per lead" fee and monthly staffing fee for this service that varies based on plan.  Contact us for more information on this feature as it is not available to all types of businesses.
Promotional / Editor Hours
This is simply the number of hours of authority site promotion and editing available per month.  This drives the amount of promotion and changes to the site available.
Google Analytics
Verify your progress with direct access on request to Google Analytics – access available after 90 days of data is collected.
View Pricing Plans to see which prices include what services.